Shantimama Doula Services
What is a Doula?
Doula derives from the greek word "servant", a woman specially trained to provide non-medical (physical, emotional, and informational) support to expectant families.
A Doula does not perform clinical tasks or provide medical advice. She listen to the needs and desires of the mother-to-be and her partner and helps them find the resources to make informed decisions about birth.
The goal of a Doula is to help the mother have a positive and safe birth experience. Whether the mother wants an unmedicated birth or is having a planned cesarean birth, for a Doula, your goals become hers.
A Doula perceives her role as one who nurtures and protects the woman's memory of her birth experience.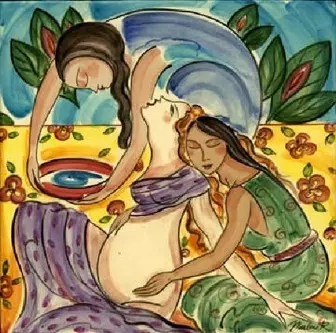 Doula Services
We meet with you and your partner twice prior to birth to prepare you and your partner. We assist by helping you make informed decisions regarding birth. We guide and help you come up with the appropriate birth plan for you and your partner.
We work with both of you with fear release techniques should you need them, to help you feel confident and positive about your birthing process. We are available for phone and e-mail consults as necessary during and after pregnancy.
During delivery, we provide comfort with pain relief techniques, breathing and vocalizing for birth techniques, relaxing, acupressure and massage techniques, relaxation and visualization techniques, hydrotherapy and aromatherapy.
Guide with Yoga and movement for labouring positions during birth. We act as an advocate for the mother and partner, fostering guidance and encouragement. We stay through the entire birth to ensure all goes smoothly and leave only after we are satisfied that Mom and baby are settled and comfortable.
After the baby is born we will make a home visit to check in and see you and your babies needs are met. We provide assistance postpartum with initiating breast-feeding and other new parenting needs.
Cost of Doula Support Services
 Shantimama Doula Support Package  $1600 +HST. 
Our most popular package! This birth doula package has everything you will need for your pregnancy, labour and birth  journey!
2 Prenatal Visits (in person or virtual) 1 to 2 hours each
Weekly check ins from 39 weeks onward
Unlimited phone/text/facetime/email support
On call support 24/7 to answer questions or concern
Attendance from active labour to 1 to 2 hours after birth
On call support 24/7 to answer questions or concerns
1 Postpartum visit (1 to 2 hours each) to check in, process the birth experience and to answer any and all questions.
Postpartum hours may be added at clients request
This package includes a back-up Doula in case your primary Doula not be able to be at your birth. The fee is paid upon hire.
To meet for a free consult and interview please contact the studio.
For information on the Shantimama premium birth package, or to customize your own, contact the studio.
Benefits of a Doula Assisted Birth
Recognizes birth as a key life experience for women and their partners
Understands the physiology of birth and the emotional needs of a woman in labor
Assists the woman and her partner in preparing for and carrying out their plans for the birth
Stays by the side of the labouring woman throughout the entire labor
Provides emotional support, physical comfort measures, an objective viewpoint and assistance to the woman in getting the information she needs to make good decisions
A Doula is there for your partner and loved ones – with hands on learning, support, and reassurance
Facilitates communication between the labouring woman, her partner and clinical care providers
Having a Doula at your birth reduces:
cesarean rate by 50%
length of labor by 25%
Oxytocin use by 40%
pain medication use by 30%
the need for forceps by 40%
epidural requests 60%