Post Natal Classes
Post Natal classes are designed for new moms who want to get fit with their baby.
These classes consists of a 60-minute workout followed by a 15-minute discussion about various relevant post natal topics.
All mats and props are provided. Just be sure to bring something to eat and drink for your little one.
Contact the studio to register. Or save time and buy online by logging in and following the prompts.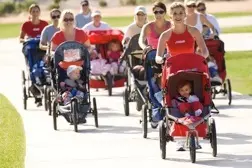 Mom & Babe Stroller Boot Camp
More than a stroll in a park! This is a class designed to get you fit after baby with a low-impact cardio workout. Meet other moms in this fun but vigorous class in Dovercourt Park. Class meets by the playground at the centre of Dovercourt Park. Class runs rain or shine so be prepared to face the elements! Starts Wednesday May 16th at 10 am!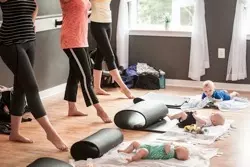 Ballet Barre and Pilates Flow with Babe
This barre class is done with your baby. Barre focuses on posture core strength and flexibility. Inspired by a blend of ballet, strength training, and Pilates, barre-style classes use the ballet barre and a variety of equipment. The results? A long, lean, and strong body. This is an ongoing series with continuous registration.  See Schedule for times.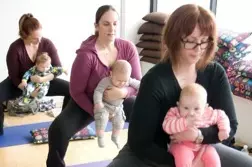 Mom & Babe Yoga/Pilates Fusion
A yoga/Pilates class suitable for mom's after birth and babes 6 weeks and up. Class consists of a series of flowing postures and Pilates core work done with baby to get you back in shape. Meet other moms and babies from the neighbourhood and get fit at the same time! This is an ongoing series with continuous registration. New moms can participate regardless of prior experience.